How to Calculate Car Loan Interest Rate Based on Credit Score
We spend a significant amount of our life traveling on roads. We are on roads for many reasons, it could be a daily commute to the office, college or for that exciting weekend getaways. According to a survey, most people like to travel by car than a bike or a scooter as car rides are more comfortable. Today, a car is just not a symbol of luxury but rather it has become an important need for a family. As the country's economy is booming, so the aspiration of the common man are also flourishing.
In sparsely populated places, owning a car becomes even more crucial due to a lack of a good public transport system. Also, a car has a large storage space that proves useful when one is out on a shopping. Usually, a car has five seats which means more fun with friends and family. However, the best part of owning a car is that it offers privacy and safety on roads. Given the staggering number of accidents the country witnesses each year, a car proves to be the safest mode of transport.
But buying a new car is quite costly when compared to a used car. But, thanks to banks and NBFC companies who have made the dream of owning a car possible for a common man. Several banks and NBFC companies provide car loans at an affordable rate of interest.  
And if you are low on budget, then NBFC's and banks comes to your financial aid by lending you a car loan. Although the rate of interest on a used car is generally higher than the loan on a new car, but buying a used car is more affordable.
In recent years, the market for used cars has grown by many folds in India. The selling ratio of used car vs new cars in India stands at 1:3, that means for every 3 new cars sold, 1 used car is sold. The used car market in India is still in its infancy stage. But still, the market is expected to grow at 15% annually.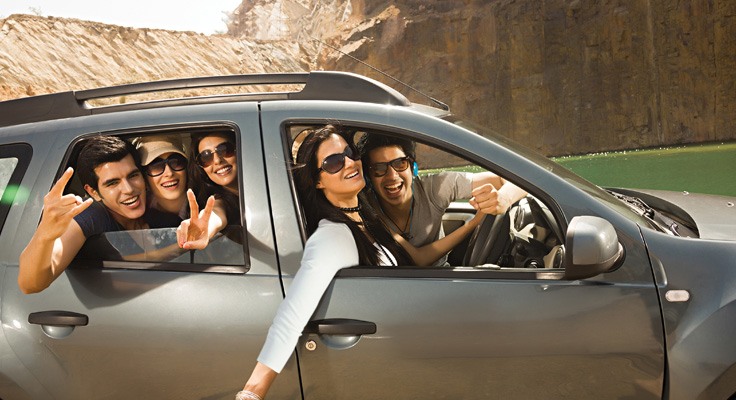 Also, according to experts the market of used cars is expected to touch the 7 million sales mark by the year 2021.
What are Car Loan Interest Rates?
Car loan interest rates are simply the extra bucks apart from the principal amount that a financial lender charges for borrowing his money for purchasing a car.  The rate of interest depends on several factors like credit score, the duration of the car loan, type of car purchased and other factors. Out of these, your credit score and the type of car are the two important factors that affect the rate of interest the most.
How to Check Credit Score?
Nowadays, credit score forms an important part of car loan eligibility as the credit score reflects your ability to repay the loan amount to lenders. Therefore, it is important to maintain a good credit score. A person with a bad credit score usually has a hard time getting a loan. The credit score checker analyses your personal and financial information to calculate your exact credit score. A credit Score of 750 & above is considered a good score, which also gives you the power to negotiate on the rate of interest with lenders.
How the rate of interest is calculated on the basis of credit score?
Usually, the lowest rate of interest is offered to one having 750+ credit score. Suppose, 10% is offered to that section of people. As the credit score drops to 700, the rate of interest will increase by 1%, that means rate of interest will be 11%. Similarly, if the credit score decreases to 650, the interest rate will be 12%. In this way, the rate of interest will be 13%, if credit score decreases to 600, so on and so forth.
This picture will be true for both new car loan as well as used car loan.
Used Car Loan Interest Rate
Contrary to popular belief, the rate of interest on used cars is generally higher than the rate of interest provided on new cars. This is so because the value of a used car is much less when compared to the value of a new car. If a person fails to pay the monthly instalments of the loan, the bank would not be able to recover the full amount of the loan owing to the "pre-owned" tag on a used car. This is so because generally used cars do not come with a warranty from the manufacturer. So, banks and other NBFC's charge a higher rate of interest on used cars. You can get a used car loan at an interest rate of 9.60%. Again, if you have a low credit score and you apply for a used car loan, you will have to pay higher interest rate.
New Car Loan Interest Rate
Same goes for the new car loan. The loan on new cars is comparatively easy to get as the new car comes with a warranty from the manufacturer. Also, a new car cost more which means a higher return on loan which translates to higher profits for banks or NBFC. In case an individual is unable to repay the loan, the lender can recover the loan by selling the car. This is the reason why more number of banks and other financial institutions prefer giving new cars loans over used car loans. A good credit score is one of the important eligibility criteria for a car loan and also to avail a lower rate of interest.
At the end…
So, before you apply for a loan, you must check your current credit score and calculate the rate of interest on the basis of that. This will be the most smartest way of car loan application.
Author Bio:
Sneha Sharma is a writer currently associated with Droom Technology. She writes about various topics such as auto news, trends in the automobile industry, auto finance and so on. She has a prominent existence and well participation on different social media platforms.
Please follow and like us: